The login page allows a user to gain access to an application by entering their user ID and password, or by using another method of authentication.
Overview
Login is often the first interaction a user has with your product. This entry point experience is an important moment in establishing your product's brand and experience and sets the tone for their overall experience with the product.
Anatomy of a basic login screen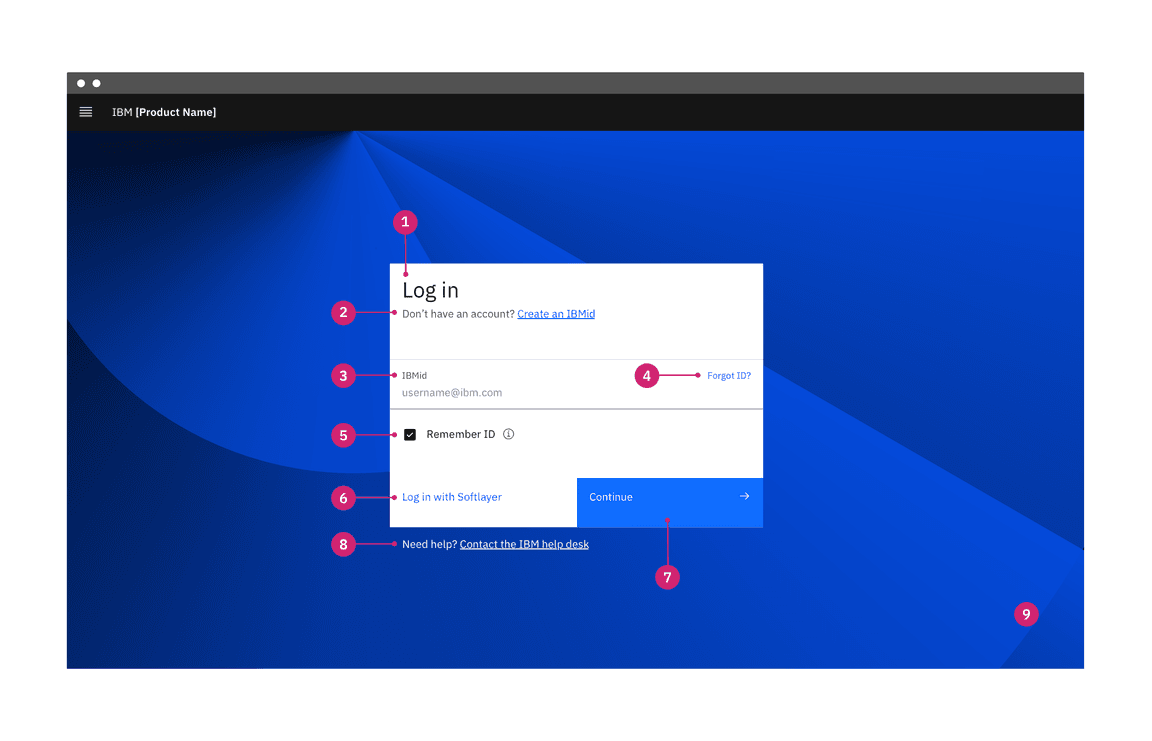 Title: Located at the top of the log in flow. For consistency, the title should include the words "Log in" rather than "Sign in" or another variant. The title can also include the product name if that makes sense for your situation. If necessary the title can wrap to the next line.
Create account (optional): Link to URX form to create an account; location of this element can vary with layout.
Required fields: The user ID and password fields are both required although, in IBM's preferred log in flow, the password field is progressively disclosed, because it has a dependency on the user ID. User IDs are usually in the form of an email address. Depending on the product, this area may also include a filter to specify the ID type.
Forgot username/password link: Takes users to a page where they can recover their username and/or password.
Remember ID (optional): Saves the user ID and presents the completed input field the next time the user logs in; it is located under the required field. Clarify what is being remembered (that is, "user ID") to avoid confusion.
Alternative logins (optional): Displays alternative login methods in order.
Continue button: Button label should be "Continue" for the primary call to action. When clicked, the email address is validated and routes the user to either the single sign-on or password flow.
Need help? (optional): Help link specifically for user ID questions and issues.
Background image (optional): Check your product team's guidance and choose an asset accordingly; all product team guidance should adhere to the IBM Design Language. Brand and sub-brand guidance can be found on IBM Brand Center.
When to use
The login page is presented to users in the following scenarios:
When a user wants to gain access to an app.
When a user has logged out voluntarily. They will see a confirmation message after which they will be automatically redirected back to the login page.
When a user has been logged out due to inactivity. In this scenario, when the user logs back in they should be redirected to the last page they were on, before being logged out.
Behavior
Progressive authentication
IBM defaults to progressive authentication for logging into products. This decreases the user's cognitive load by eliminating non-essential distractions and automatically directing them to the necessary login flow.
As illustrated below, the user ID should be requested upfront with a "Continue" button to move forward. This allows the system to distinguish which path the user needs to take in the background instead of making the user read through options and choose. From this point the user will either continue to a single sign-on (SSO) flow or they'll be presented a password field.
SSO
Single sign-on (SSO) enables users to log into multiple, unrelated products through one authentication portal, rather than using a unique username and password for each product. Many companies use SSO to give their employees access to a suite of unrelated tools with only one login.
When users input an SSO email and click "Continue" they are taken to their organization's SSO flow. If it is not possible to determine whether a user is using an SSO email in the backend, provide users with a button to take them to their SSO flow.
Username and password
If a user enters an email that does not use SSO, they are taken to the password flow. The password page includes a way to return to the previous page in case the user makes a mistake while filling out their user ID, as well as a "Forgot password" button.
Do not give users an error if they enter an email or username that is not valid until after they have clicked "Log in" on the password page. This protects valid email addresses and usernames from being exposed and helps keep your product secure.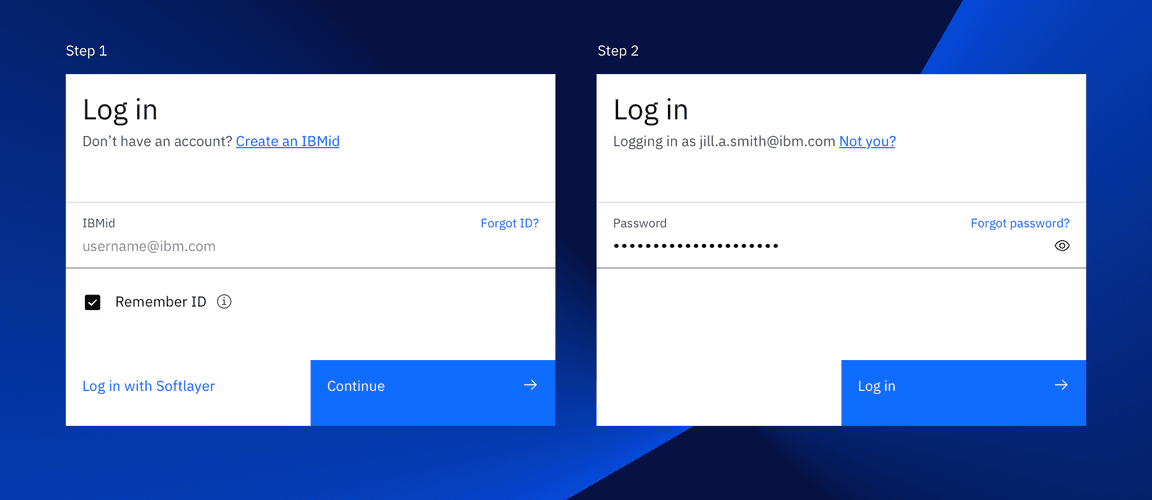 Multi-factor authentication
Multi-Factor Authentication (MFA) requires a user to present more than one credential, in order to verify their identity. This method provides an added layer of security, while still maintaining ease of use. This often includes a password and an additional credential, like an SMS code or known backup code.
Carbon does not have consolidated guidance around multi-factor authentication. Since it's something that products approach in different ways, we'd like to conduct more research with a view to offering more robust, centralized guidance in the future.
Separate authentication methods
If distinguishing between the authentication methods in the background is not technically feasible, provide users buttons to the various